Back to all posts
Posted on
Staggered Entry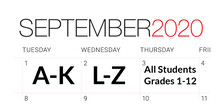 All NLPS Cold Lake schools will be doing staggered on September 1 and 2 for students by last name.
September 1: Last Names A-K
September 2: Last Names L-Z
Any students who cannot make it on the designated days, please contact the school to make alternative arrangements.  Students with special requirements will be contacted by Mr. Baskerville for the return to school.